This previously shunned part of Brooklyn is the place to hear new things
Considering New York City's real estate patterns—always a consideration regarding everything here—it was inevitable the musically adventurous would find Gowanus. A neighborhood so toxically unlovely that the Environmental Protection Agency wants to declare it a Superfund cleanup site, Gowanus buildings are suitable mostly for storage, marginal businesses and the making of noise.
Naturally, idealistic and experimental enterprises such as Issue Project Room, IBeam Music Studio, the Douglass Street Music Collective, Littlefield Performance and Art Space and the Brooklyn Lyceum have found the area affordable, welcoming (in that there are few residents to complain about late-night volume levels) and relatively convenient, just a short walk to Park Slope and a couple of significant subway stops. There are few inviting restaurants and or cozy bars, but that hasn't stopped people from intrepidly pursuing their creative visions.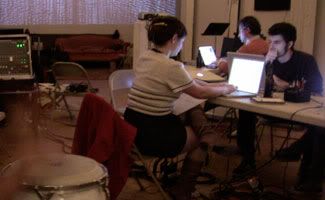 Where else could bassist Michael Bates, for instance, try out his jazz quintet versions of Shostakovich repertoire in front of a small, rapt audience prior to recording them than at IBeam? For $25, anyone can buy two daytime hours for rehearsal; members ($75 monthly, six-month minimum) get eight hours as part of their benefits. OK, maybe at Douglass Street, but its "collective" of 15 genre-defiers has a lock on that space. Littlefield, which boasts "an industrial/organic aesthetic," does presentations curated by its owners, no rentals.
The Lyceum, in a former public bathhouse, is much larger, seating 300, suitable for dog shows and crafts markets as well as theater (Woyzeck by Buchner, Feb. 24–27; The American Clock by Arthur Miller, March 3–13) and dance (House, billed as "a multi-media dance spectacle designed to get you out of your seat and on the floor," March 25).
At IBeam a couple weeks ago, Bates' quintet set was followed by a free-improvising trio comprising pianist Jesse Stacken, Akiko Sasaki on Japanese koto and drummer Gerald Cleaver. They were impressively sensitive and interactive, creating music that was unpredictable but pleasing when heard up close in intimate surroundings with good acoustics. IBeam is all that.
Which studio/rehearsal rental/venue for the avant-garde is right for which project doesn't matter so much to audience members, who are typically friends, followers or significant others of the artists themselves. And to suggest common artistic directions for the activities between Fourth Avenue and Bond Street, Ninth Street and approximately Douglass, is premature. Experimental intermedia might cover the gamut, if that wasn't the name of Phill Niblock's venerable loft in Manhattan between Little Italy and Soho, still featuring presentations by international minimalists, electronic music pioneers and proponents of abstract or challenging sights and sounds.
What I've seen so far in Gowanus taps a refreshed take on good ol' new music, though the wacky, gritty, fragmented, exploratory and ambitious nature of what's going on seems pretty much like what came out of the East Village in the '80s.
For instance, Elliott Sharp, one of our city's most prodigious, uncompromisingly spiky and locally underappreciated multi-instrumentalist/composers—based for decades from an apartment near Tompkins Square Park—celebrates his 60th birthday in a March 4 benefit for Issue Project Room, hosted by filmmaker Jo Andres and actor Steve Buscemi. Sharp has never forsaken his roots in rock and the blues (he has a band called Terraplane, named after a Robert Johnson song and including guitarist Hubert Sumlin, Howlin' Wolf's main man), but he also writes complex pieces that revel in density, dissonance and dynamic extremes. For his birthday (actually March 1) he'll play solo acoustic guitar, collaborate with Andres and Buscemi (narrating his own text) as well as sci-fi author Jack Womack and poet Tracie Morris, oversee "The Boreal" as played by the JACK string quartet and premiere "Occam's Razor," for JACK and the Sirius Quartet (also strings) together.
Ironically, the benefit is at Issue Project Room's new place, 110 Livingston St., in downtown Brooklyn, about 4-and-a-half miles from its present home in the Old American Can Factory at 232 3rd St. and the silo right on the banks of the Gowanus Canal, which used to be its address. IPR's big move is a bet on upscaling, supported by Brooklyn Borough President Marty Markowitz, whose office gave $1.725 million to its capital campaign in July 2009 to renovate a space designed for an Elk's Club in 1926 by architects McKim, Mead and White. Markowitz thinks IPR and comparable arts presenting spaces will enrich future Brooklyn. Of course, when an initiative starts small and gets successful, it may need to leave its birthplace. But the other establishments in its scene remain. If you want to hear or see something you never have before, right now Gowanus is the place to go.